Atlanta Exterior Painting
Preparation is a critical step in the application of a long lasting paint or stain job. A sound surface must be found and prepared properly for the top coatings it will receive. If we find any structural damage such as dry rot, we will bring it to your attention and appropriate actions will be taken to fix the problem prior to painting.
In preparing your exterior paint job we will: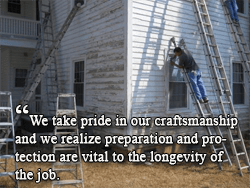 Pressure wash house with environmentally friendly detergent for mildew, moss and grime removal and general cleaning as required.
Driveways & walkways cleaned upon request.
Delicate areas are hand-washed.
House is given time to dry.
Scrape all loose paint throughout areas to be painted.
Feather sand rough edges as necessary for a more consistent and clean look.
Glossy areas are scuff-sanded to ensure that finish coat bonds strongly.
Apply specialty bonding primer to all applicable surfaces.
Apply exterior primer to all bare wood.
Caulking all splits in wood and windows for proper insulation and water damage prevention.
Exterior Protection:
Masking all windows and doors, protection of shrubbery, landscaping and walkways.
Prime/Paint Siding and Trim:
Spray, roll and hand brushwork as indicated and necessary.
Clean Up / Final Inspection:
Our clean up and final inspection help set us apart from other contractors and companies.
Performed each day and upon completion of the job.
Plant beds cleaned and paint chips removed .
Outdoor fixtures & furniture left as we found them.
All trash is removed from site.
At the end of the project everything will be as clean or cleaner than we found it.
Final Inspection:
Our painting crew will do a final inspection on their own to ensure that all work and cleanup is complete.
Then our owners and painters will ask the customer to inspect the job and any areas of concern will be noted and taken care of.
Touch-up paint is labeled & left with the customer.
The final step is for the customer to sign off on the job and submit the final payment.